Darmstadt may have earned the title for being the City of Arts and Sciences. The former for having being once been the centre of the German Jugendstil movement, and the latter for its particle accelerator and being home to a division of the European Space Agency. However, this smallish town located between Frankfurt and Heidelberg is off the tourist track and often forgotten about.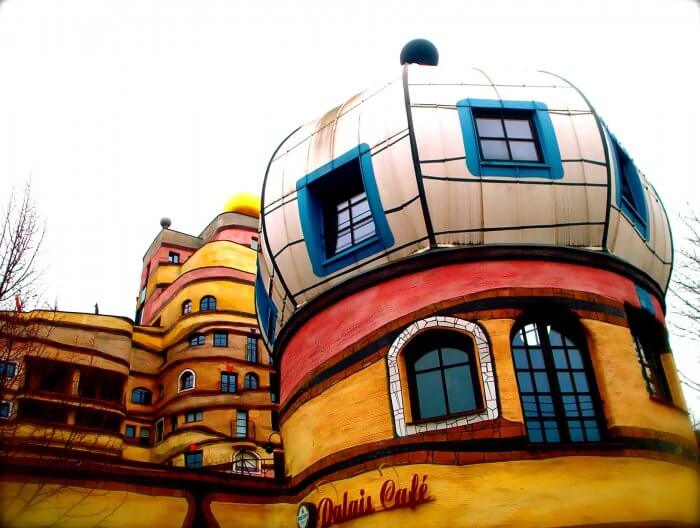 Darmstadt is not only home to an interesting Jugendstil artist's quarter, but also home to an amazing example of modern, avant-garde architecture. Besides a few apartment blocks, a car park and an Aldi, Friedensreich Hundertwasser's Waldspirale curls from the ground up in a collection of multi-coloured tiers, golden domes and vegetation growing up the spine of the spiral. Believe it or not, this surreal creation is actually a residential block of flats. So what's the story behind Hundertwasser's work?
An Architect with a Different Vision
As a huge fan of Modernism and Art Nouveau, after seeing Gaudí's creations or even the coloured tiled buildings of Ödön Lechner, I mistakenly categorised Hundertwasser as being a contemporary of those movements but turns out I was wrong by pretty much a century.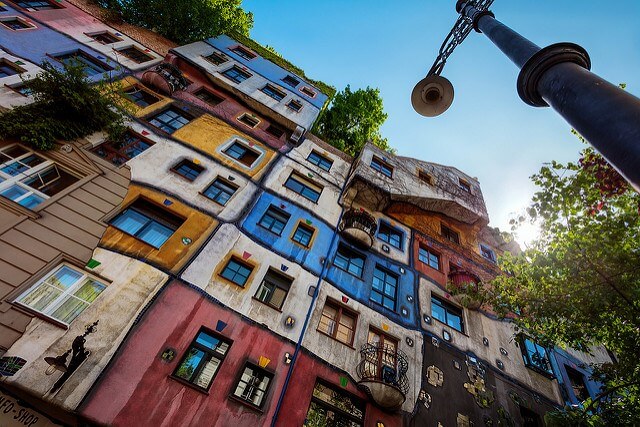 Friedensreich Hundertwasser was actually born in 1928, and most of his famous creations actually date to the latter part of the 20th century. The Austrian architect, who also worked in environmental protection, rebelled against the standardised straight lines so prevalent in modern architecture by creating unique irregular forms that blended nature with expressionist structures that were anything but square.
But it wasn't just about aesthetics, Hundertwasser held a manifesto that buildings should also be environmentally friendly, where nature and architecture could co-exist in a world of disjointed lines and colours. For him, the cause of human misery arose from monotonous architecture, so he advocated variety and a closeness to nature. He wrote numerous manifestos about sustainable urban living, campaigning for the preservation of natural habitat and nature protection. He was a man who was ahead of his time, who developed the concept of composting toilets and the was vocal about the preservation of the oceans and rainforest. Hundertwasser might have paved the way for sustainable architecture, but his buildings are an incredible legacy in their own right.
Save